Funerals and Wakes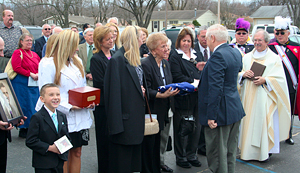 When contact is made with the office following a death, we have parishioners who meet with the family to help plan the wake and funeral. There are many options and these caring people help sort through the choices, make arrangements and take some of the burden at a difficult time.
Participants in this ministry should be sensitive to working with the bereaved and possess an active knowledge of the parish. Training will be provided at the parish level to give a practical understanding of the funeral liturgies and the tasks that need to be accomplished, but participation in Diocesan training sessions would also be expected.
Funeral dinners and receptions
This ministry meets two very critical needs in our parish:
Receptions to celebrate special events in our parish
Funeral dinners to ease the distress of a grieving family and friends following the death of a parishioner.
Two teams of parishioners accept responsibility for providing a covered dish meal when a death occurs. For receptions, helping at one event each year is usual. Help is needed in providing a dish, or serving the meal, or making the necessary phone calls. A little help goes a long way!
Planning a funeral
Click here for the funeral planning page.
Grief ministry
Click here for the Grief Ministry (bereavement) page