Ruysser Hall is our main parish hall. It is available for parties, receptions (wedding receptions etc.), dances and large gatherings and has plenty of parking, complete with a handicap accessible entry.
The main hall holds 180 people, the annex holds 65. It has a complete commercial kitchen (see photos below) including a buffet serving line, double convection ovens, commercial gas stove, and refrigerator. There are handicapped accessible bathrooms and parking in back of facility. Comes with movable beverage bar.
Location
Easy access from 71 highway Red Bridge Road exit. See map and campus map links at the bottom of this page.
Scheduling
See contact below for availability and scheduling.
Contact
Email rentals@saintcatherine.com or call the parish office at the number below for rental information.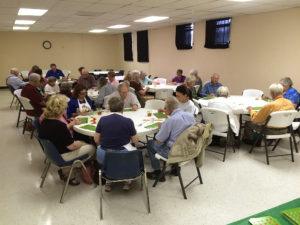 The Kitchen
(click photos to enlarge)
More Facility pages